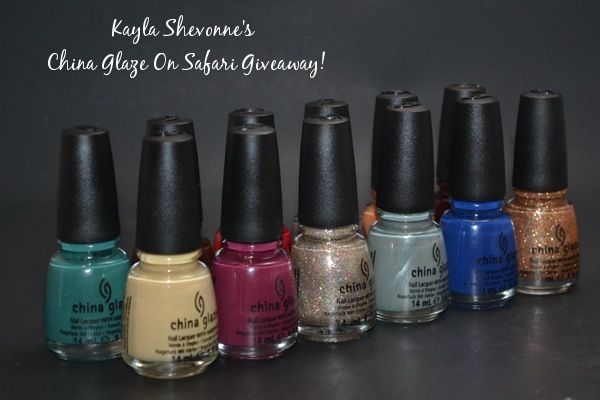 Kayla Shevonne, of
Nails by Kayla Shevonne
, is giving away the entire China Glaze On Safari Collection to one very lucky winner! I've definitely got this collection on my list of must-gets, though it's currently more of a Christmas-gift-to-myself plan than anything else.
As always, I don't follow blogs just to enter giveaways. I'll go check out a blog if I see a giveaway, sure, but I'll only follow them if I actually
like
what they have on their blog. Good pictures, good nail art, good humor, or the perfect trifecta of all three, but there's always a reason why I follow a blog. Kayla has at least two out of the three - GREAT pictures, pretty nail art that is frequently inspirational for my own, and the added bonus of great swatching (though I don't really follow a blog if it's only swatching, I do appreciate seeing swatch posts in a blog that already has the other stuff I'm looking for) - and I was already following her blog before she posted this giveaway. I'm happy to send nail blog readers her way!